Making Something Out of Nothing
As we round out the year in Pages with our third and final experience, we will see Noah Purifoy's work in the exhibition Junk Dada. Working with Bryan Moss, visual arts artist-in-residence, we decided to first explore this work with as many of the five senses as we could engage. Armed with a box of "stuff", Bryan introduced Purifoy's work, a brief history, a biography, and images of his assemblages and collages.
This was no typical lecture. During the presentation, students wrapped their fingers in yarn, paper, and other small unidentifiable objects. Students listened, asked questions, and worked together in small groups of three and four, with the occasional lone student breaking free to create a work on their own. Students listened and built with the "stuff" they found scattered on their tables or desks. What was the end goal? Whatever they wanted it to be – this kind of freedom often a challenge when students are staring at a blank page trying to translate their thoughts into writing. But with the materials, students had a lot to say, as they looked at Purifoy's work, considered the choices he made as an artist, and engaged in fluid discussions about Dada, art and social justice, the museum, and community.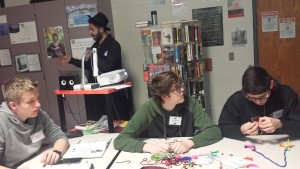 There were no crisis moments of creative or maker's block; no one got stuck. No one thought this activity of lecture, learning, and play felt weird. Everyone learned something, most likely learned many things. Students all knew what to do with their slivers of paper, buttons and beads, yarn, feathers, and sparkly things. We discussed how objects can be arranged to represent an idea or how those objects can be used to build a narrative. This is one way to integrate pre-writing and the making process: encouraging students to be physical in the process, be thoughtful with their choices, and most of all, to play.