Students Answer Life's Messy Questions Together
We don't always have the answers to life's messy questions. Т Through the PAGES program, English I students had the opportunity to experienceТ Girlhood and consider how one teenage girl attempts to answer these questions. Т With very few resources or reliable people guiding her in the right direction, Marieme makes a chain of "bad" choices.
During our post-visit, the following messy questions were printed and cut into strips:
What is on the other side of this choice?
What if I dare to dream?
What does my voice sound like?
Whose life is this anyway?
How do you know it's love?
What if I make "the wrong" decision?
Who do I think I am?
Who is in control of this situation?
What do I do now?
To get to tomorrow, what do I need to do today?
Students chose one question that interested them and formed groups based on that question. Т Within their groups, they discussed and wrote about the following:
If Marieme had asked herself this question at different moments in the film, what would have been her answer? At the beginning, the middle, the end?

Think about moments in your own lives. What do

you

need to know to be able to answer these questions?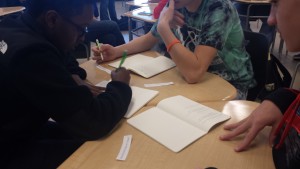 Students selected a peer from their group to report their answers to the class. Т The resulting discussion proved that while small, these young students had big things to say! They were able to effectively analyze a film as a text and make connections to their own lives:
"Even when she made a bad decision, it was HER decision, and she was in control."
"Showing love is love; it's about what you do versus what you say. "
"I picked this but I didn't know what this meant until they helped me."
"You have to consider every outcome, not just the good. Т You cannot ignore the bad effects of your choices. Т You need to think critically about your choices." Т 
"She lost everyone because of one bad choice."Т 
"I don't think the door was locked for her. I don't think doors are locked forever."
"Don't doubt yourself."